Hydropool Self-Cleaning Hot Tubs
The Hydropool Self-Cleaning system takes the worry and hassle out of hot tub maintenance with a hands-free cleaning system that safeguards you and your family by providing crystal clear purified water for your hot tub experience.
The Self-Cleaning System actually cleans 100% of the water every 15 minutes, and  includes a built-in floor vacuum—all part of the worry-free, Self-Cleaning technology of Hydropool Hot Tubs. Don't you wish everything in life could be this easy?
The only SELF-CLEANING Hot Tub on the market!
Hydropool Serenity Hot Tubs
Serenity Hot Tubs offer one of the most comfortable designs in the industry combined with spacious, deep seating. Available in several models, configurations, and colors, there is sure to be a perfect Serenity Hot Tub for you. The new sleek designs are available in a multitude of hydrotherapy packages and are available with a wide array of the most popular features and options.
These hot tubs are manufactured with high-performance components, quality materials, and are backed by an industry-leading warranty. It's hard to believe you can discover this much stress reduction, fun, and relaxation at such an affordable price!
Who is Hydropool?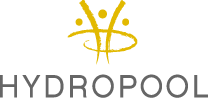 Hydropool Hot Tubs originated in 1970 as a commercial swimming pool company and in 1978 became one of the first hot tub retailers in North America. Initially, Hydropool purchased hot tub shells from a local manufacturer, then plumbed and assembled them in-house. By 1980, Hydropool began manufacturing their own hot tubs in Toronto, which are handcrafted by experienced designers. The rest, as they say, is history. Poolarama is proud to offer high-quality hot tubs by Hydropool.