The Rockwood On-Ground Swimming Pool
The Rockwood is an exceptional swimming pool in every respect. Its galvanized steel structure ensures maximum resistance and incomparable durability. It's strong enough to support the weight of a car, and designed to withstand the harshest weather Ottawa can throw at it.
Nothing—not wind, rain, sleet, or snow, neither winter freeze nor spring thaw—is a match for the Rockwood Pool. The Rockwood is also ideal for all ground conditions, including sand, gravel, or clay. It's quick and easy to assemble and can be outfitted in a variety of ways. Strong and stylish, the Rockwood has everything you need in a pool, offering you and your family years of summertime fun.
You can install this pool fully into the ground, 1/2 way into the ground or install it on top of the ground (round only).
The Rockwood swimming pool wall structure has the same high-quality steel panels as our inground pools.
Compatible with salt water.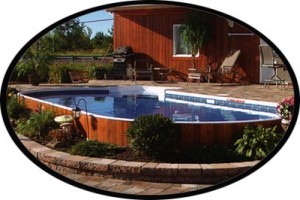 View our different sizes, shapes and dimensions: