Featured Hayward® Products
Hayward VS Omni® Variable-Speed Pumps with Smart Pool Control
Your pool controls are at your fingertips with Hayward VS Omni Variable-Speed pumps! VS Omni pumps are a fantastic upgrade option that gives you total control over your pool's pump speed, temperature, and more from your smartphone. Ideal for pools and spas of all sizes, VS Omni pumps offer unmatched energy efficiency, and can help you schedule and save on your overall energy costs.
FEATURES:
Easily control your full pool pad (up to 4 devices)

Pool and spa scheduling and control via your smartphone

Adjust pump speed, water temperature, and pool lighting remotely

Fully compatible with Amazon Alexa voice control

Industry-leading, Energy Star®-certified line of pumps

Capable of saving up to 90% in energy costs per year
The Hayward Super Pump
Efficient. Dependable. Proven. The Hayward Super Pump series of large-capacity, technologically advanced pumps blends cost-efficient design with durable corrosion-proof construction. Designed for inground pools and spas of all types and sizes.
Features
Large see-through strainer
Super-size debris basket
Exclusive easy-service design for extra convenience
Exclusive swing-away handle makes strainer cover removal easy—no tools, no loose parts, no clamps
See-through strainer cover lets you see when basket needs cleaning
Heavy-duty, high-performance motor with airflow ventilation for quieter, cooler operation
Energy-efficient design produces more flow at equivalent horsepower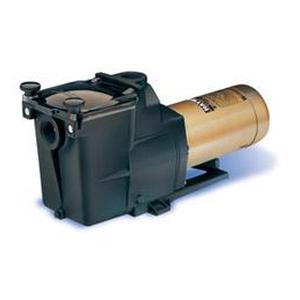 The Pentair WhisperFlo Pump
The WhisperFlo pump is designed to get more work done using les shorsepower than competing pumps. This gives it two distinctive advantages: it's energy-efficiency means it will cost less to use than other pumps; and true to its name, it runs so quietly you'll forget it's even there. It provides heavy-duty performance in a design made to last—the product of 40 years of innovation.
Features
ENERGY STAR®-certified
Large strainer basket means fewer cleanings
See-through cap for quick and easy inspection
FunnelFlo™ diffuser ensures optimal water flow with low energy consumption and noise profile
Single-speed and two-speed models available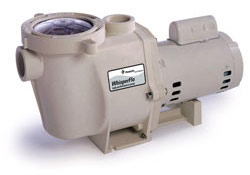 How much money do you stand to save by switching to an energy-efficient variable speed pump by Hayward? This easy-to-use calculator should give you close estimate. Poolarama is proud to carry Hayward products, and we stand by their quality.
TRY THE HAYWARD ENERGY CALCULATOR
Hayward Pro-Series Sand Filter
Providing you with quality you can trust, the Pro Series high-rate sand filters incorporate the latest pool filter technology to ensure your pool is operating at its very best. Molded in durable, corrosion-proof reinforced thermoplastic, they feature attractive, unitized tank construction for years of trouble-free operation with only minimal care. The Pro Series sets a new standard for performance, value and dependability.
Features
Flange clamp design allows 360-degree rotation of valve to simplify plumbing
Integral top diffuser ensures even distribution of water over the top 
of the sand media bed
Full-size internal piping provides smooth, free-flowing performance
Unitized, corrosion-proof filter tank molded in rugged, colorfast reinforced thermoplastic for dependable, all-weather performance
7-position Hayward Vari-Flo control valve with easy-to-use lever-action 
handle lets you dial any of the valve or filter functions
Integral sight glass lets you see when backwash cycle is completed
Large pressure sand and water drain for rapid winterizing or servicing
Precision-engineered umbrella-fold self-cleaning laterals for balanced 
flow and backwashing, as well as easy serviceability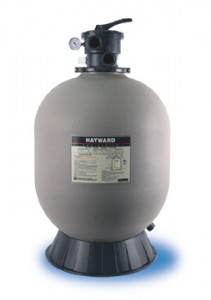 Pentair Sand Dollar Sand Filter
So clean. So clear. So easy.
Sand Dollar top-mount filters are the perfect high-performance sand filters. They're incredibly simple to operate and maintain, and built with long-term reliability in mind. Plus, the highly efficient design provides all the clean, crystal-clear water your pool requires, year after year.
Now Available with ClearPro Technology for 60% Cleaner Water
Sand Dollar top-mount filters with ClearPro technology remove particles up to five times smaller than traditional sand filters—well below what your eye can detect—for water that truly sparkles with clarity. The ClearPro secret is a proprietary porous tube that water must pass through before re-entering the pool. It creates a final barrier to the very smallest particles that sand cannot trap, including the finest dust particles, algae, and pollens.
Features
Six-position, top-mounted multiport valve
Combination water and sand drain makes servicing and winterizing 
fast and easy