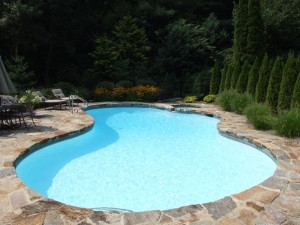 Spring in Ottawa is finally here and it's time to start thinking about your summer plans. Owning or renting a cottage, and traveling to exotic places can be costly and stressful, especially for young families. Why not create your very own paradise by turning your yard into a private oasis. Make every day a holiday right here in Ottawa! Will you be installing an above ground pool, an in-ground pool or perhaps a hot tub?
In the spirit of keeping things simple, an above ground pool or hot tub is your best option.
Here are some things you'll need to think about:
First and foremost, you need to know your budget. Keep in mind the immediate cost of purchase and installation but also the long-term cost and effort of maintaining your above ground pool or hot tub, including replacement parts and chemicals.
You may have heard from friends and neighbours that having a saltwater pool or hot tub is all the rage. They do offer many advantages such as being more comfortable and less irritating to the eyes and skin. They are also cheaper to maintain and don't require as many chemicals.
However, there's a reason that chlorine pools are still the top-selling type of pool in Ottawa. They are cheaper up-front, as are their replacement parts and equipment. The excess calcium caused by the salt system can create a buildup on the water's surface. Given the long, grueling winters in Ottawa, we're all familiar with the corrosive effects of salt. Saltwater from an above ground pool or hot tub has the same effect on the metal in handrails and outdoor furniture and cause damage to pool and hot tub materials and heaters.
Extra money in your budget? You might want to look into the latest trend in pools: Automation! Just when you thought your cell-phone or computer couldn't possibly do any more, you find out you can turn your pool heater on and off, and control the temperature and pumps from your favourite Ottawa coffee shop with the use of your smartphone!
Whatever you decide, you can purchase an above ground pool or hot tub (or both!) in a variety of shapes and sizes available from many different stores in Ottawa. When choosing a company, look for knowledgeable staff with experience and a friendly, hands-on customer service approach.
Now that you've made all the important decisions surrounding the pool or hot tub you want, there are a few more things you need to worry about. The most important is pool safety. Ottawa has some strict fencing laws when it comes to all water sources deeper than 24 inches, including pools and hot tubs. Make sure you familiarize yourself with these regulations, which can be found on the City of Ottawa website.
And now, just add a BBQ, some outdoor furniture, some pool toys and lawn games for the kids, and you've got everything you need to enjoy the summer months in Ottawa.