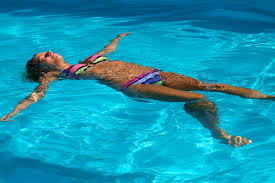 Why go to beach in the summer when you can enjoy the peace and relaxation of the cool waters in the comfort of your own home? Crowded sandy beaches with swooping seagulls, rowdy volleyball players and
There are a few things to consider before diving into the deep end such as what style of pool will ideally fit your lifestyle? There are a few styles to choose from for your new Ottawa semi-inground swimming pool such as if a semi, vinyl or fiberglass is best for you.
Vinyl:
Vinyl swimming pools are the most common and feature inground pool liners in different colours and styles. The liners are typically made from chlorinated PVC thermoplastic and stretch overtop a sand or concrete base. Some advantages of this type of pool include a lower initial cost during instillation as well as having a smoother surface that is gentle on the skin and feet. Vinyl inground pool liners can also be customized to be virtually any shape you can possibly imagine, therefore allowing for more room for creativity while designing your pool.
Semi-Inground:
Semi-inground swimming pools are easy to install and are a great alternative if you aren't able to have a full inground pool. Beautiful decks and patios can be built around them to create the perfect relaxation space for you and your family. They are salt water compatible and feature durable steel walls that can resist all the trials and tribulations that an Ottawa winter can bring.
Fiberglass:
The next type of pool to consider while designing your getaway is fiberglass. Though the initial installation cost for fiberglass pools can be more expensive, they are very durable pools and have credible longevity compared to vinyl inground pool liners which sometimes have to be replaced more often. Fiberglass pools are very low-maintenance and, when well-maintained, require minimal repairs. These pools feature seamless stairs versus metal ladders and can be customized to your liking.
A Few Extra Things To Consider:
While creating the perfect space for your new summer go-to destination, semi-inground swimming pools in Ottawa have extreme durability that stand up against vinyl and fibreglass with their sturdy metal exterior. Fiberglass pools are pet-friendly since it cannot be punctured or torn from doggy-paddling paws, however their surface is much rougher and doesn't have the smooth advantage that vinyl liners have.
With all things considered, there are several options to choose from while designing your backyard oasis. Once you've decided which style, whether it's a vinyl, fiberglass or semi-inground swimming pool in Ottawa you'll be on your way to enjoying hot summer days in the comfort of your own comfortable, familiar home.