From the Size of Your Yard to the Cost of a Swimming Pool Safety Cover, How to Pick the Right Pool Shape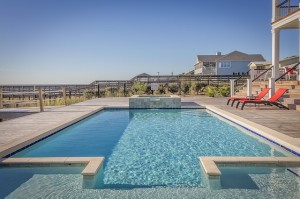 So you've decided to take the plunge—pun entirely intended—and invest in a salt water swimming pool for your home. You've read up on all the benefits that a salt water system can offer you in contrast to traditional chlorine, and you want to experience them first-hand. There's just one thing to figure out before you begin: what shape will your pool be? This can depend on your budget, available space, the positioning of things like shrubs and patios, availability of swimming pool safety covers, and of course, how you intend to use the pool. Let's take a look at some basic categories:
Geometric Shapes
Geometric pools are pools with straight edges along their length, in shapes such as rectangles, ovals, and the "L shape." These pools are great for people who like to do laps, and are the easiest to tailor a swimming pool safety cover. The rounded edges of an oval pool are perfect for families who enjoy water sports, and an L-shaped pool is great for homes where small children often visit. This is because there is a clear division between the shallow end, in the short arm of the L, and the deep end. For more ornate geometric designs, look into Roman or Grecian shapes.
The Figure 8 and the Kidney
The figure 8—which is actually shaped more like a peanut shell—is a great design to work your salt water swimming pool around architectural or landscaping elements. Like the L shape, it also offers a clear division between deep and shallow ends. The kidney—which really is kidney-shaped—is similar to the figure 8, but is ideal for if you want to wrap the pool around a hot tub, shower for bathers, or any other amenity you can nestle in the little nook its shape creates.
Free Form
What's great about free form is that you are only truly limited by space, budget, and the abilities of your pool builder. If you have a ridiculous amount of money want a gigantic pool shaped like a violin (Google it, this is a real pool someone really built), it can be yours. On a much more practical scale, you can design a pool to conform to just about any curvilinear shape, which is great if you want to incorporate landscaping around it, or have an awkwardly-shaped yard. The only thing you need to worry about is that the more complex your shape gets, the more difficult—and therefore more expensive—it will be to have a swimming pool safety cover made for it.
Now that you know your options, you're ready to make an informed decision about the shape that will best suit your home, your lifestyle, and your salt water swimming pool. Now all that's left is to go forth and make a big splash with it!