Mixing the Convenience of Above-Ground Pools and the Quality of Inground Pools in Ottawa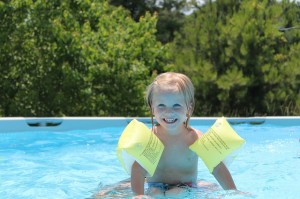 There was a time when, if you didn't have the budget to afford an inground pool, your only option was above-ground pools in Ottawa. The above-ground model is cheaper, easier to build, but doesn't have quite the same lifespan as its inground counterpart. It was a choice between extremes, with very little middle ground to tread. Today, however, the landscape has grown and evolved, and semi-inground swimming pools in Ottawa have made a splash on the scene, being cheaper than the inground models but sturdy in construction and boasting a few advantages entirely new to the world of swimming pools. Let's compare semi-inground (also called on-ground) pools against the above-ground competition to help you decide which choice works best for you:
Above-Ground Pools in Ottawa
This type of pool has always had two main advantages. First, it's the least expensive variety on the market. Fewer materials, plus not needing to excavate land to bury it into the ground, means less cost to you, the homeowner. It's also easy to install: many above-ground models can be installed in a single day. If you want to save even more of the cost, you can turn installation into a personal project—it is possibly the only pool that can be installed by the owner. Another advantage is that it fits well in small yards—important when most new homes are being built on increasingly small properties.
Unfortunately, the life span of above ground pools in Ottawa isn't as long as its competitors. The pressure of containing water without the ground for support, not to mention freezing in the winter, puts undue strain on the structure, wreaking all kinds of havoc on it.
Semi-Inground Swimming Pools in Ottawa
The first and most noticeable benefit that the semi-inground pool offers that no other variety can compete with is its versatility: originally designed to be installed above the ground with inground-quality construction, it can actually be installed above the ground, in the ground, or halfway in and halfway out. This means that if you have a slope to your yard, you no longer need to worry about the challenging of levelling the ground—your new pool can rest on a level surface while the ground slopes around it.
Because they were originally intended to be installed above the ground, they have fewer parts than their inground counterparts, making them less expensive and easier to install. Add to that the easy of installing wood or stone decks around the edge of your brand new semi-inground swimming pools, Ottawa homeowners would be missing out if they didn't explore this exciting new option. Poolarama can assist you with all of your semi-inground pool installation needs in Ottawa.