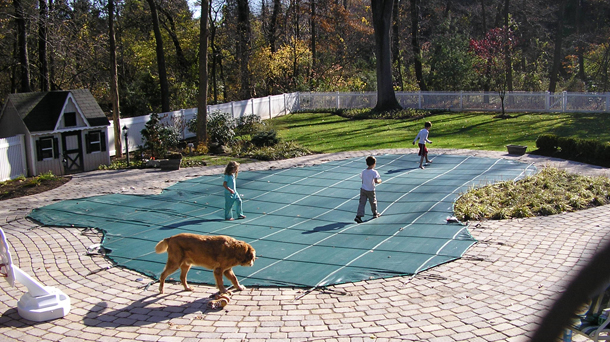 We're in pool season and having the right swimming pool equipment is essential in providing a clean and comfortable blue oasis for you and your family this summer. There are many different things you should consider buying when owning or purchasing a pool because having the proper equipment will make it easier to enjoy and maintain your pool this summer. For the everyday maintenance of your pool, equipment such as leaf nets, vacuums and test kits are essential to keeping your pool clean and appealing to swim in. These three items are available at many pool stores and come in many versions with many different features.
Swimming pool safety covers are also another great item to consider purchasing for your pool this summer. Swimming pool safety covers are great for keeping your pool safe, clean and warm; they are a great addition to your swimming pool investment and will last years. These types of covers also help to preserve your pool and keep it in good condition. Swimming pool safety covers come in different styles and materials; you can get covers made of tarp like material which you manually pull on and off, and you can get electronic covers which draw in and out with the push of a button. Why not make your life easier with the purchase of an item like this; it will save you time and money that would have been spent on cleaning the pool and paying for heating it.
Swimming pools are fun and versatile, whether you're looking for a place to keep cool and relax or you're looking for a place the kids can splash around in all summer, the variety of swimming pool equipment is endless these days. Pool toys and accessories can all be picked up at your local pool store; so give your summer a splash of fun and keep your pool clean and safe with leaf nets, vacuums, test kits, pool safety covers and more. A pool is an investment so having the proper swimming pool equipment will help you to extend the life and use of your pool. So enjoy the beautiful weather summer in Ottawa has to bring and create a paradise in your backyard that you can lounge around in with friends and family.