Tips to Get Your Backyard Oasis-Ready
You've probably had a day or two where you felt like escaping from the outside world. And as appealing as going out with friends' sounds, sometimes staying at home and having a little quality time alone is the best idea. You might be thinking it's easier to go to a spa or recreation centre to relax or entertain yourself. However, by simply adding a few elements, you can create an oasis in your backyard.
Hot Tubs in Ottawa
Soaking in hot water is something people have done for ages as a form of relaxation. Now in the 21st century, we have developed hot tubs as a substitute to hot springs or Roman baths. Hot tubs in Ottawa are a great way to relax and can be enjoyed throughout the seasons.
You might be surprised to know there are many therapeutic benefits from hot tubs in Ottawa as well. In numerous instances, hot tubs in Ottawa have proven to reduce arthritis pain, loosen tight muscles, and increase your blood flow. Remember too much of something is never good for you! Experts recommend no more than 30 to 45 minutes per soak in a hot tub.
Swimming Pools Installment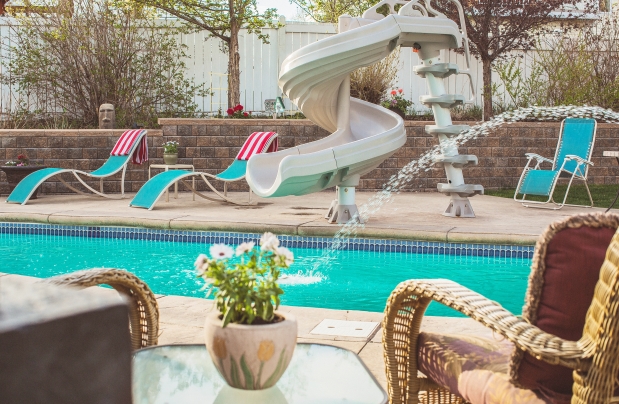 Believe it or not, another effective de-stressing technique is to soak yourself in cool water. Taking a dip in the water can rejuvenate your senses and decreases stress hormones. Installing a swimming pool is not only a smart investment because it helps you de-stress, it's something which can be enjoyed by your entire family.
Swimming pools are relatively low maintenance with the right swimming pool equipment. Essential pieces of swimming pool equipment include filters and chlorinators to clean the water, a pool cover and liner, and test strips. Many other types of swimming pool equipment are accessories which enhance your swimming experience.
Landscaping Your Backyard
Studies have shown people are strongly affected by nature. Nature has the ability to enhance our memory, make us more caring, and of course, decrease our stress hormones. Landscaping your backyard with a beautiful arrangement of greenery is attractive and brings out the best versions of ourselves.
Adding Waterfalls
In addition to greenery, water is another design feature which has a strong presence in your backyard and helps to create a tranquil environment.
Just like how swimming pool equipment is fundamental to cleaning swimming pools, waterfalls have to be maintained with equipment as well. Unsurprisingly, cleaning equipment for waterfalls is similar to swimming pools, consisting of pumps, filters, and certain chemical solutions to kill algae.
With all the benefits from hot tubs to greenery, it's easily worth the investment to create an oasis in your own backyard.