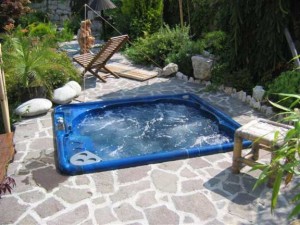 Have you ever considered the many benefits of having a hot tub installed in your own backyard? Not only are the hot tubs a great way to beat the stress, they are also a great way to spend romantic evenings under the stars. When choosing a hot tub in Ottawa you should consider all the additional accessories you will want to include in your purchase.
Have kids? That's great because your hot tub will be the perfect location for them to hang out with their friends. You want your kids to have fun and enjoy themselves, but if you are like most parents, you like them to be home where you can supervise. When you have a  hot tub, your kids can enjoy themselves and you can relax knowing they are safe.
If you have ever wanted to get away and enjoy a romantic evening with your partner, you will not have to go far if you have a hot tub in your backyard. Adding a few floating candles and you have the perfect environment for a romantic getaway for two. Add in some quiet music and you will be able to spend the evening relaxing in the comfort of your own backyard.
Water massage is one of the best ways to unwind after a busy day at work. The hydro jets and heated water will work to relax your tired muscles, stimulate pressure points and release all of those feel-good endorphins.  Aromatherapy will help you relax while you enjoy the benefits of your hot tub in Ottawa.
If you suffer from medical conditions such as chronic pain or arthritis, you know how painful your joints can become. Many doctors recommend hydrotherapy for their patients. A hot tub in will allow you to enjoy the benefits of hydrotherapy right in your own backyard.
You may even enjoy adding to your backyard enjoyment by having a built in swimming pool installed. Your entire family will have countless hours of fun swimming in their new pool. Once they have finished swimming they will be able to soak in the hot tub. You will be able to find all of the hot tub and swimming pool equipment and accessories you need at your local swimming pool equipment provider.
No pool is complete without the many fun accessories that are available. You will also need to pick up all of the pool and hot tub supplies to keep them clean and sanitary for your family. Your swimming pool equipment should include chlorine, test strips, and filters. Once you have all of the equipment you will need, you will be ready to enjoy your new hot tub.