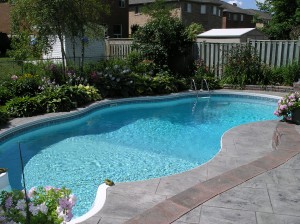 I discovered the health benefits of making an appointment each weekend between myself and the pool I had begun referring to as "my own personal spa" many years ago.
Since I lived in downtown Ottawa and had many friends with their own pool, I had many inground swimming pools in Ottawa to choose from. However, there was no question in my mind: rain or shine, summer or winter, I only wanted to swim in a salt water pool… even if the closest one was over half an hour away by public transit!
If you have experienced the amazing feeling of swimming that refreshing salt-treated water, this has probably happened to you as well…
I still remember the first time I swam in such pool: I felt as though I had suddenly landed on a Mediterranean beach!
As I look back, I realize swimming in that pool provided me with the relaxation and well-being most people spend a fortune for at a spa. I dreamed of one day having my own, and I am happy to see other homeowners are now also seeing the benefits of installing a salt water swimming pool in their backyards!
Most importantly, I found myself enjoying the exercise and— for the first time— being able to breathe freely. Indeed, even as a child, I found the smell of chlorine difficult to cope with both within the pool, and on my swimming suit afterwards.
The feeling of wellness as I swam, and the softness of my hair and skin afterwards were enough to keep me coming back, week after week, to that pool. After I discovered salt water pools, I discovered the most cost-efficient way to feel as though you are at a spa!
So enthralled was I that on a few occasions I even felt the need to go on a weeknight—in the middle of winter. I put on my warmest coat and off I went to "my personal spa". I still remember how great I felt the next day at work: I was relaxed, alert and … happy.
To this day, I am reluctant to consider swimming in a traditional pool and I welcome the change we are beginning to see in the pool industry: indeed, more homeowners are now also becoming aware of the advantages of transforming their pool into a salt water treated pool … I am also told there are economic advantages as well!
If there is a cost-efficient way to have a "personal spa" at home … I'm plunging right in it!