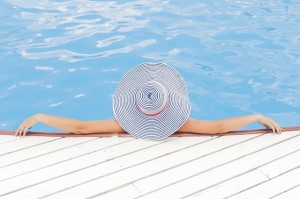 As Canadians we live with extreme weather conditions, but we've learned how to combat the freezing winters and blistering summers: water. I'm not talking about taking a bubble bath; I'm talking about pools and hot tubs. Getting into a steamy hot tub after a hard day's work is a great way to relax those sore muscles and ease your tension. Throw on a little music, close your eyes and let the jets work their magic. Or perhaps you'd rather blow off some steam while swimming laps in your pool? Lucky for us, there are a number of swimming pool companies specializing in pools and hot tubs in Ottawa.
Refreshing and relaxing
A pool is truly the best way to get through those hot days. It's also an excellent form of exercise, not to mention a great way to relax. There's nothing quite like jumping into a pool on a blistering summer's day. You feel the cool water surround your body, chilling you from head to toe, and refreshing you instantly. Today, pools and hot tubs come in a variety of different sizes. You can find a hot tub that's perfect for all your needs, whether you need it to fit two people or ten. The same applies to swimming pools; you can easily find the optimal sized pool with a little work.
When it comes to hot tubs, pools, and swimming pool equipment, you want to make sure that you're buying quality. Nobody wants a summer's day ruined by leaky pipes or a faulty heater, so purchase your swimming pool equipment from professionals that specialize in pools and hot tubs in Ottawa.
Time for a tub
Over the last few years, hot tubs in Ottawa have become increasingly popular. More and more people are realizing the wonders of a hot tub, but there are a number of things you should consider before going ahead and buying one. Set a budget and know what you're willing to spend. You should also know what you want before searching for your hot tub; do you want a small tub, a big tub, one with speakers, lights, or loungers? Once you find what you're looking for, ensure that you know what kind of warranty comes along with it, and what level of maintenance is involved (many hot tub and swimming pool equipment specialists now offer The Hydro-Pool Self Cleaning System, which speaks for itself!). It is also very important that you make sure the hot tub can withstand all four seasons in Canada!
For more information on pools and hot tubs in Ottawa, contact your local hot tub and swimming pool equipment experts today!