Discover The History Of Hot Tubs And Other Fun Facts
Hot tubs are relaxing, fun, and a great way to warm up in the cold winter months. They've also been used a lot longer than you might think. Hot tubs have been around in one form or another for thousands of years thanks to their therapeutic effects. If you are thinking about getting a hot tub in Ottawa, check out these fun facts about hot tubs:
Hot Springs—Nature's Hot Tub
Bathing in natural hot springs has been popular for thousands of years. Buddhists in Japan may be one of the first groups to have used hot springs for public bathing.
Hot Stones For Warm Baths
If people didn't have access to hot springs, they used hot stones to heat up both public and private baths. Public baths became popular in Western Europe during the Renaissance.
Hot Tubs Reduce Stress
Research has found cortisol levels—more commonly called the stress hormone—were reduced in participants who spent 15 minutes a day in a hot tub.
It's Not Just Humans Who Love Hot Tubs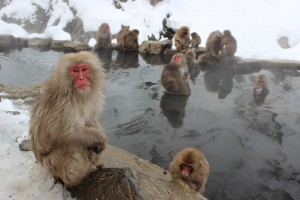 In the winter, Japanese Macaques (a.k.a. Snow Monkeys) bathe in hot springs in Japan for up to five hours a day. Like humans, these monkeys also take advantage of the social and health benefits of hot tubs, or in this case, hot springs.
Hot Tubs Help With Insomnia
The relaxing effect of bathing in hot tubs helps people sleep better at night, improves circulation, and relieves tense muscle pain. Hot tubs encourage relaxation, letting you get to sleep and rest easily.
Hot tubs Can Help Reduce Type 2 Diabetes Symptoms
Research on the effects of hot tub use on diabetes patients found that bathing in a hot tub for 30 minutes a day reduced weight, improved blood sugar levels and well-being, and reduced the need for insulin injections.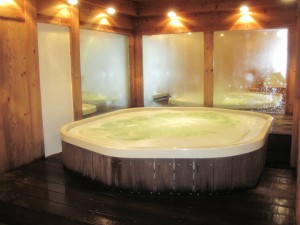 Thank The Jacuzzi Brothers For Hot Tub Jets
The Jacuzzi brothers, aircraft machinists from California, developed the first modern-day hot tub in the 1940s. Their hot tubs featured jets with soothing bubbles meant to relieve arthritis pain.
Hot Tubs Promote Health And Well-Being
As mentioned above, frequent hot tub bathing improves health and well-being. If physical pains are also reduced, people are able to pursue more active and healthy lifestyles.
Hot tubs Soothe Arthritis Aches
Thanks to the Jacuzzi brothers, modern-day hot tubs are designed to reduce the pain and inflammation associated with arthritis. The jets provide a gentle massaging action, and the warm water ease aches and pains.
There Are Now Self-Cleaning Hot Tubs
Hot tub technology has come a long way. There are now self-cleaning hot tubs on the market to provide safe and clean water without the all the work.
If you're in the market for a new hot tub in Ottawa, don't hesitate to contact the experts—they'll have the knowledge to help you find the right model for your needs.