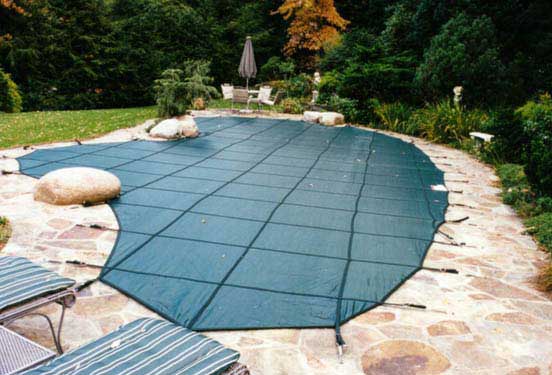 Swimming pool repair businesses in Ottawa know there are always a few die-hard customers who keep their pools open in case of a warm spell in late September or even early October. They might actually be onto something. Does anyone remember the unseasonable mid-twenties temperatures last Thanksgiving weekend? Unusual weather aside, most people close their pools sometime in September between Labour Day and Thanksgiving weekends. Taking good care of your pool in the fall and following a few simple tips can ensure that you're the first one in your neighbourhood enjoying a swim in May.
September is a great time to close your pool, because in Ottawa most of the leaves fall in October and into early November following consistent night frost and sub-zero temperatures. Your pool water will be much clearer in the spring and easier to bring up to a swimmable level if you minimize debris in the water before closing. Leaves and debris left on the bottom will still be there in the spring and will make it more difficult to get the water crystal-clear. Take some time to vacuum the pool and it will definitely pay off in the spring. A chemical kit designed specifically for winterizing can be purchased from swimming pool repairs shops in Ottawa to preserve the water quality for the next season and prevent stains on the pool's surfaces.
In recent years, there has been a big increase in the number of people choosing swimming pool safety covers over the older, tarp-style soft covers. Swimming pool safety covers are a great option for protecting children, pets, and wildlife from becoming trapped beneath a pool cover. Animals will try to walk across a soft tarp, not realizing that it's an unstable surface, and drown in the partially-drained pool. It can be a bad surprise to remove your tarp in the spring and find a decomposing animal in the water, and even with lots of chemicals, it can be hard to convince yourself the water is clean after that.
Swimming pool safety covers provide a hard surface that can safely hold the weight of a person or animal.  Swimming pool safety covers have the added benefit of blocking 100% of UV rays, preventing algae growth in the water when the weather starts to warm up.
Finally, you'll want to remove all the equipment, like skimmer baskets, ladders, heaters, pool toys and accessories, and your vacuum for winter storage. Lower the pool water below the skimmer and install your swimming pool safety cover. Retreat to the warmth of the fireplace and start thinking about next season!